Call now for all your pest control needs in the Illawarra region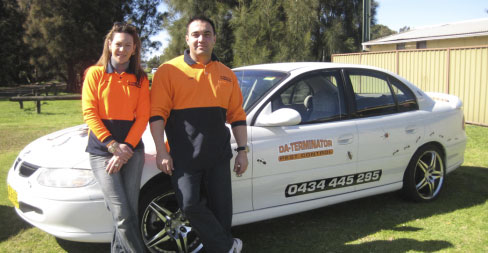 Pest and Termite Control Services for Illawarra
Da Terminator pest and termite control services has the best pest control service throughout the Illawarra and Wollongong area. Whether you live in Kiama, Shellharbour, Shellcove, Albion Park, Haywards Bay, Dapto, Horsley, Figtree, Corrimal or further we can help you.
The company boasts an expert team of professional pest-control-ers and also provides safe, reliable, and affordable termite treatment for homes and businesses.
You owe it to yourself to protect your home today with our state-of-the-art termite and pest prevention measures.
For the extermination of all your unwanted infestations including rodents, Roaches, Spiders, Ants, Bees, Wasps, Fleas, Bedbugs and many other creepy crawlies, contact Da Terminator.
When you find your self faced with a pest or termite control problem give us a call immediately on 0434 445 295 for a control situation diagnosis and we'll come sort out your problems.
You can also check out our social pages – we have are on facebook – Da Terminator Pest Control and also on Google+ as Da Terminator Pest Control.
Or you can email us for a quote or with any pest control questions you may have at daterminatorpc@gmail.com